Vizhinjam
Kerala Tourist Places > Thiruvananthapuram >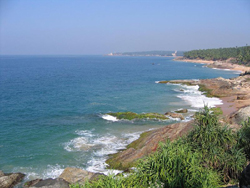 Vizhinjam is located 15 km away from Thiruvananthapuram city. There is a small port at Vizhinjam now and it is expected that the development of this port will boost India's trade and commercial activities. This is a natural port and has a close proximity to the International ship route.
Vizhinjam has some world famous beach resorts and the places around Vizhinjam are known for the Ayurvedic treatments. The ruins of the rock temple made by drilling a huge rock attracts tourists. There is an aquarium with a rich collection of sea animals. Cheras, the historical rulers used Vizhinjam as their harbour. Vizhinjam was a commercial centre for the Cheras, Europeans, Portuguese and the Dutch.
Thiruvananthapuram International Airport is about 12 km from Vizhinjam. Vizhinjam can be reached by bus from Thiruvananthapuram.
---
Vizhinjam Related Links
---