Veli
Kerala Tourist Places > Thiruvananthapuram >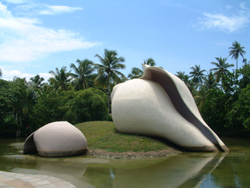 Veli Beach lies 1 km away from Shanghumugham beach, by the side of the Veli lagoon or lake. The Veli lagon is seperated from the Arabian sea by a narrow sand bar. A beautiful park and a floating restaurant attracts tourists.
Boating in Fibre Boats through the serene backwater watching the natural beauty of the surroundings is a fantastic experience to anyone who loves nature. There are facilities for Pedal boating, row boating, speed boating, swimming and small parties in Veli.
The Veli tourist village is connected to the Veli beach by a waterfront park with a wooden floating bridge. The swinging effect of this hanging bridge thrills children as well as elders. There are some huge beautiful sculptures in the ornamental park at Veli.
There is a playground for children. The Youth hostel which priovides dormitory accommodation for nominal rates is a very convenient place for stay. Veli is easily accessible by road. It is about 3 km from Thiruvananthapuram International Airport.
---
Veli Related Links
---