Parasurama Temple Thiruvallam
Kerala Tourist Places > Thiruvananthapuram >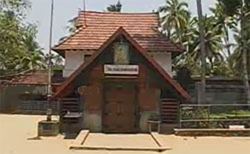 The Thiruvallam Parasurama temple is situated 10 km from Trivandrum on the Kovalam route. The Parasurama temple located on the banks of the river Karamana, is the only one temple dedicated to Sri Parasurama.
Many Pilgrims visit this temple for 'Balitharpanam'. People make offerings to their ancestors, after taking a dip in the holy river. There is wide belief that the great monk Adi Shakara made the Bali for his mother at this place.
Thiruvallam Parasurama temple is a protected monument, dates back to the 12th and 13th century, late Pandyan period.
---
Parasurama Temple Thiruvallam Related Links
---