Priyadarsini Planetarium
Kerala Tourist Places > Thiruvananthapuram >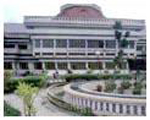 Priyadarsini Planetorium is situated near The Science and Technology Museum in Thiruvananthapuram. Enough knowledge about Solar System can be acquired from here.
Watching the orbiting planets and stars on a doomed ceiling through projectors is a fantastic experience to the spectators.
The planetarium has organised shows on " MAN AND THE UNIVERSE"- dealing with the origin and different stages of development of astronomy, the structure of different planets and the Origin of the Universe.
---
Priyadarsini Planetarium Related Links
---