Kerala Tourist Places :
Tourism Places in Kottayam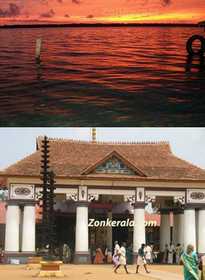 Kottayam district is a beautiful district in Kerala with the natural beauty of hills, backwaters and lakes. Most of the places in Kottayam are hilly regions like Vagamon, Elaveezhapoonchira etc. Kumarakom, known all over the world for its exotic backwaters, is situated about 12 km from Kottayam town. Kottayam has the title "The land of letters, legends, latex and lakes." Most of India's natural rubber originates from here.

Like all other districts of Kerala, Kottayam also has many tourist places and pilgrimage centres. Some of the pilgrimage places where devotees visit are Vaikom Mahadeva Temple, Ettumanoor Mahadeva Temple. Bharananganam Church, Mannanam Church, Kudamaloor Church, Panachikkad Saraswathi Temple, and Thirunakkara Temple. St Mary's Jacobite Syrian Church, Manarkadu is another very important and famous Christian church in Kottayam.

Kottayam is also known as the "City of Letters". Major news papers like Malayala Manorama, and Deepika has their headquarters in Kottayam. Besides these, many other newspapers like Mathrubhumi, Mangalam and Madhyamam are published from Kottayam.


Kottayam is well connected to all the places in Kerala. There are many buses from Kottayam KSRTC Bus stand to all major towns in Kerala. Some private players are also operating tourism services. Kottayam Railway Station is a major connection point of Kottayam with the rest of Kerala and to many parts of India. Most of the long distance trains halt at this station. The nearest Airport is Nedumbassery Airport which is 76 km from Kottayam.
Toursist Places
Bharanamganam St. Mary's Church