Sri Padmanabha Swami Temple
Kerala Tourist Places > Thiruvananthapuram >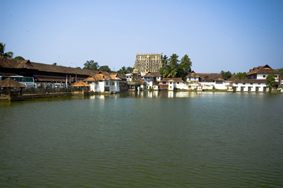 Sri Padmanabha Swami Temple is situated at East Fort near KSRTC Bus stand. This temple is an important sight in the heart of the city of Thiruvananthapuram. Its architectural work is famous. It is built in Dravidian style in 7 storeys. The 'Ottakkalmandapam' attracts people. The presiding deity is Lord Mahavishnu reclining on the Serpent 'Anantha'. The Travancore rulers were known as 'Padmanabhadasan' , ie, Servant to Sri Padmanabha Swami.
The name of the city Thiruvananthapuram is derived from the name of the presiding deity. Sri Padmanabha Swami temple at Trivandrum is considered as one of the 108 Divya Desams (place of special holiness) of Lord Vishnu. The temple had gone through a number of renovations. Maharaja of Travancore Marthandavarma did the last renovation. The royal insignia of the Lord, The Shankha or Couch or the Right twisted sea-shell, served as the State Emblem of Travancore and even continues as State Emblem of Kerala.
In the sanctum, Lord Vishnu is in a reclining position over Adi Sesha, the Serpent. Different parts of the idol, namely, the face, the navel and the feet is seen from three door like openings. Only Hindus are allowed inside the temple. The temple is a blend of the Kerala and Dravidian style of architecture. The temple is about 2000 years old.
There are many festivals in this temple, the most important being the Alpashy festival and Painkuni festival. Both these festivals end with Aratt. Aratt at Sri Padmanabha Swami Temple is famous. The deity is taken in procession along a five kilometer route to the beach for a holy dip in the sea. The major annual festival of this temple is Navarathri. The Idols of Goddess Saraswathi, Durga and Lord Muruga are taken to the Kuthira Malika in front of the temple. This festival lasts for 9 days.
The most important festival of Sri Padmanabha Swami Temple is the Laksha deepam (one lakh lamps) which falls once in 6 years. During the festival, one lakh oil lamps are lit in and around the temple. Prior to the festival, recitation of the 3 vedas are done in 56 days. The next Laksha Deepam festival will commence in January 2008.
---
Sri Padmanabha Swami Temple Related Links
---