Varkala Sivagiri
Kerala Tourist Places > Thiruvananthapuram >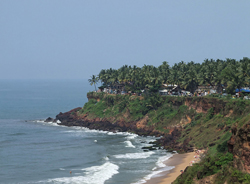 Varkala is about 40 km from Thiruvananthapuram. The famous Janardhana Swami Temple is located here at Varkala. This place is also called 'Dakshina Kasi' or the Varanasi of South. The temple was maintained by the Pandya Kings. This place is important for 'Pithrutharpanam'. Only Hindus are allowed inside the temple.
The famous Papanasam beach is near Varkala. The beach is famous for 'Vavubali' held in the month of 'Karkidakam' (July-August). The beach is a clean one spanning over about three kilometers. Varkala beach has some late rite cliffs and naturally formed brooks of mineral water. This formation is a rare phenomenon of the nature and Varkala beach is one of the few beaches of this kind in the world. The tourist season starts in September every year and will go until the end of March.
Sivagiri is situated 3km from Varkala Janardhana Swami Temple. This is the final resting place of Sree Narayana Guru, the great social reformer of Kerala. Rare pictures of Guru and his belongings are kept here. This is a famous pilgrimage centre. People belonging to all castes and religions are allowed to visit Sivagiri Madom.
'Varkala Tunnel' is of great historical importance. This tunnel was built by the British across the canal. It is an attraction among tourists for its magnificant construction. The tunnel is a standing symbol of Kerala's forgotten trade route and commercial past.
---
Varkala Sivagiri Related Links
---