Sree Chithra Art Gallery
Kerala Tourist Places > Thiruvananthapuram >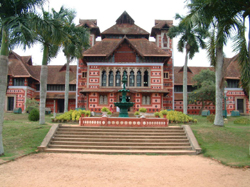 Sree Chitra Art Gallery is located near to the Museum. The art gallery was established in 1935. This is a must see gallery for art lovers.
Paintings of famous artists like Raja Ravi Varma, K.C.S. Panicker, Rorich can be seen here. Copies of the Ajanta Caves Paintings are also exhibited here. A grand collection of paintings from China, Japan, Tibet, Bali and paintings from many parts of the world are seen here.
There are many Bengali paintings, Rajasthani, Mughal miniatures and Tanjavore paintings also on display here. Many antiques owned by the Travancore royal family are also present here. One who browse through the paintings here will get a clear picture of the Kerala history.
Working Hours : 09.00 am to 05.00 pm. Monday Holiday.
---
Sree Chithra Art Gallery Related Links
---