Kuthiramalika
Kerala Tourist Places > Thiruvananthapuram >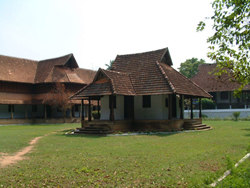 Kuthiramalika is situated near East Fort, Thiruvananthapuram adjacent to Sree Padmanabhaswamy Temple. Kuthiramalika means THE HORSE PALACE. The palace got this name because of the 122 horse carvings on the exterior walls of the castle.
This castle was built in the 18th century by His Highness Swathi Thirunal Balarama Varma, Raja of the erstwhile state of Travancore. He used the palace to enhance his artistic thoughts and ideas. He was a great poet, musician and a great reformer.
The castle has many carvings and sculptures which makes Kuthiramalika beautiful. Kuthiramalika has two massive thrones, one is made of 25 elephant tusks and the other is made from Bohemian crystal. The museum is built in the Travancore style and is a classical example of Kerala architecture. It has many paintings and the priceless collection of articles belonging to Travancore Royal family.
Visitors are allowed into the Maharaja's music room from where they can get a clear view of the Sri Padmanabha Swamy temple. The temple was the source of inspiration for Swathi Thirunal.
Entrance fee: Adults: Rs. 10 Children: Rs. 3 Foreigners: Rs. 20 Camera permit: Rs. 15.
Working hours : 8.30 - 12.30 hrs. and 15.30 - 17.30 hrs.
Monday Holiday.
---
Kuthiramalika Related Links
---