Kovalam
Kerala Tourist Places > Thiruvananthapuram >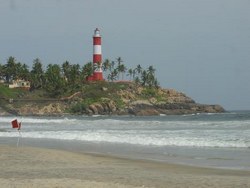 Kovalam is about 13 km away from Trivandrum city. Kovalam beach attracts tourists from all over the world. This beach is the most popular beach in Kerala today. The palm-fringed bays offers a place for relaxation. This wonderful beach is a paradise for tourists. Kovalam beach was discovered by the European guests of the then Travancore kingdom. But Kovalam reached its present glory during the seventies when the HIPPIES arrived here in large masses.
Anybody can take a bath in the sea without any fear. Several life guards are appointed for the safety of the people. Swimming and aquatic sports are also on offer here. The Kovalam beach can be divided into three. Most popular beach is the southernmost Lighthouse beach. The 'Hawwah Beach' in the middle of Kovalam attracts foreigners who wants to have sun-bath. The northernmost beach is Samudra and this part is least affected by the hustle of growing tourist population.
Visitors can explore the jewelleries, handicrafts and textile shops that spread along the beach. In the evenings, Kathakali, the traditional dance form of Kerala are performed for the tourists. Backwater cruises along the beautiful Kerala coast from Kovalam is an enchanting experience for a tourist.
There are many resorts and hotels for the tourists. Kovalam is not only a tourist location now. It is fast developing into a Yoga and health centre too. There are many Ayurvedic centres where anyone can have Ayurvedic massages and oil baths. Yoga and Meditation are taught by experts here.
There are many hotels and restaurants at Kovalam. Many of them offers delicious Indian as well as western foods. The tourist season is from November to March.
---
Kovalam Related Links
---