Government Arts Museum
Kerala Tourist Places > Thiruvananthapuram >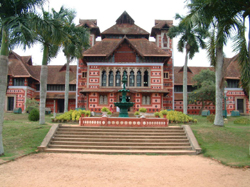 Government Arts Museum is situated near the Zoo. The architectural beauty of the Arts museum building is marvellous. It combines the architectural styles of Kerala, the Mughal and the Chinese. This museum was formerly known as Napier Museum after the former Madras Governer General John Napier.
A vast collection of rare and old things such as jewels, coins and sculpture are exhibited here. There are many musical instruments also on display here. Some models like the one for the Nair joint family residence, THARAVAD. Many temple chariots, ivory carvings and bronze ornaments. Lifesize figures of the traditional Kerala dance form Kathakali are exhibited here.
The museum building has a natural cooling system. This building dates back to 1880. The exterior of this structure is coloured in stripes of pink and blue alternating with stripes of yellow and cherry red.
Working Hours : 10.00 am to 4.45 pm from Tuesdays to Sundays. On Wednesdays the museum opens only at 1 pm.
Monday Holiday.
---
Government Arts Museum Related Links
---