Attukal Bhagavathy Temple
Kerala Tourist Places > Thiruvananthapuram >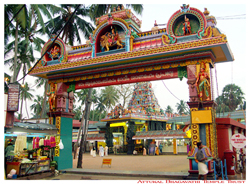 Attukal Bhagavathy Temple is located at Attukal, 2 km away from the city. 'Pongala' is the favorite offering to Attukal Bhagavathy. This temple is considered as the Sabarimala of the Women. Women form the major portion of the devotees here. The Goddess is worshipped here as the Supreme Mother. The pilgrims who visit the Sri Padmanabha Swami Temple also visit Attukalamma without which their pilgrimage is not considered as complete.
According to the legends, the Attukal Bhagavathy is the divinised form of Kannaki, the heroine of the famous Tamil work Chilappathikaram. Kannaki is considered as an incarnation of Goddess Parvathi, the consort of Lord Shiva. The Pongala festival is celebrated during the Malayalam month 'Kumbha' ( Feb-March) in the 'Makam' Nakshathram. The ten-day- long celebration commences in the Malayalam month of Makaram-Kumbham (Feb - March)on the Karthika star. Kuthiyottam performed by boys and Thalappoli by girls are two popular rituals made on the Ponkala day. A large number of devotees throng the temple during the festival times. The Pongala ceremony is exclusively for women.
The temple structure is a blend of Kerala and Tamil styles of architecture. There are beautiful carved figures of Mahishasuramarddini, Goddess Kali, Rajarajeswari, Sree Parvathy with Lord Paramasiva and various other depictions of the Goddess in and around the temple. The depictions of various other Gods and Goddess are seen in the corridoors of the temple. The ten incarnations of Lord Vishnu are also depicted here.
---
Attukal Bhagavathy Temple Related Links
---