Pathanamthitta Tourist Places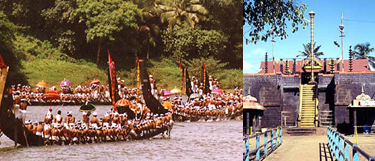 Pathanamthitta is the district with out a beach in Kerala. The district stands close to the Western Ghats, with many parts in dense forest. The famous Sabarimala is in Pathanamthitta district. The district is blessed with natural beauty of hills, rivers and variety of flora and fauna.
Pathanamthitta has borders with Idukki, and Kottayam districts in the northern side, Kollam district in the south, Alappuzha district in the west and has borders with Tamilnadu in the eastern side. Major towns in this district are Pathanamthitta, Thiruvalla, Aranmula, Kozhenchery, Pandalam, Adoor, Ranni, Parumala, Mallappally, Omalloor and Kumbanad.
Travel Information:
By Air: Nearest airport: Thiruvananthapuram (119 km)
By Rail: Nearest railway station: Thiruvalla (30 km); Chengannur (28 km)
By Road: Pathanamthitta is well connected by a good network of roads to all major towns in Kerala.
There are many touist spots and pilgrim centers in this district. Pathanamthitta district is considered as the head quarters of the Pilgrimage tourism with many major Pilgrimage centres in the district like Sabarimala, Maramon, Aranmula Temple, Parumala Church, and Malayalappuzha. Other places of tourist interest are Perumthenaruvi, and Charalkunnu.
health prose
Toursist Places