Aranmula
Kerala Tourist Places > Pathanamthitta >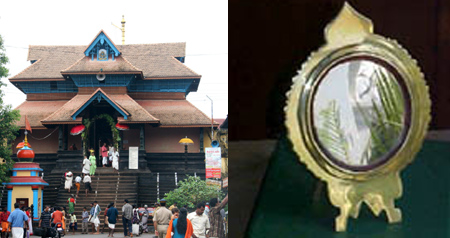 The Aranmula Parthasarathy temple is located at Aranmula, about 10 km away from Chengannur, is dedicated to Lord Krishna in the form of 'Parthasarathy'. 'Uthruttathi' Boat Race during Onam Festival Season attracts many tourists.
A tradition of sending an offering of rice and other material required for a feast from a nearby village, on a waterboat relates to the origin of this festival and this tradition is continued even today. Snake Boats from 39 'Karas' from Chennithala in the west to Ranni in the east participate in the Vallomkali.
Aranmula temple also has a festival called Khandavanadahanam, which is observed in the December-January period. This festival marks an important event mentioned in the epic Mahabharata. The temple has some carvings of the epics which dates back to 18th century.
Aranmula is also famous for 'Aranmula Kannadi' which is a handmade mirror made up of Polished metal. This unique mirror is exclusive to Aranmula. The 'Vasthu Vidya Gurukulam' run by the Government of Kerala is situated here.
Aranmula is easily accessible by road from Thiruvalla and Chengannur and from any other place is Kerala. Thiruvananthapuram and Kochi International Airports are the nearest Airports. The nearest railway stations are Thiruvalla nd Chengannur. A good number of local and Express trains pass through these stations.
---
Aranmula Related Links
---