Maramon
Kerala Tourist Places > Pathanamthitta >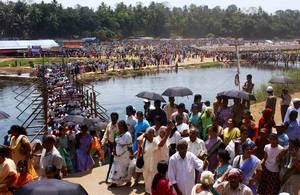 Maramon is located 10 km away from Pathanamthitta. Maramon is a small town on the Pampa River, opposite to Kozhencherry town in the state of Kerala, India. This place is the headquarters of the Marthoma Sabha. Asia's largest Christian Congregation, the Maramon Convention, is held here every year in the month of February on the banks of River Pamba.
So many Foreign delegates take part in this convention. It is organized by the Mar Thoma Evangelistic Association, the missionary wing of the Mar Thoma Church. The convention started in 1896. Kadavil Malika is a historic place associated with the origin of the Maramon Convention.
Maramon is generally recognized as center of Christian culture. Maramon Convention displays co-operation and union between different sections of Church in Kerala. Maramon is also famous as the birth place of Palakkunnathu Abraham Maplah, leader of the reformation in the Syrian Church of Malabar in the 19th century.
---
Maramon Related Links
---