Kaviyoor
Kerala Tourist Places > Pathanamthitta >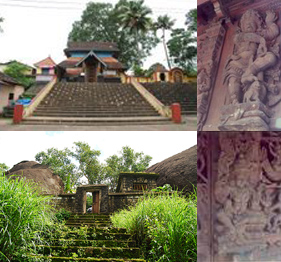 Kaviyoor is about 5 km east of Tiruvalla Town in Pathanamthitta district of Kerala, on the banks of river Manimala.
Kaviyoor Mahadeva Temple
The Kaviyoor Mahadeva Temple is situated here in Kaviyur. This is a 1000 year old temple which has a unique style of architecture and is one of the oldest of the Mahadeva temples in Kerala. The temple is commonly known as Thrikkaviyoor Mahadeva Temple.
The temple is believed to be constructed in the 10th century. Perfect round Sreekovil with Sandhara style and its peculiar basment are unique to the temple.There are two inscriptions on the basement of the main sanctum dated 950 & 951 AD.
The annual 10 day long temple festival is 'Thiruvutsavam' and this starts on Thiruvathira day in the Malayalam month of Dhanu (December-January). Utsavabali, seva, pallivetta are the main rituals performed during the festival. A Hanuman Temple is also located in the temple complex of Kaviyoor Temple. This is one of the famous major temples of Travancore Devaswam Board under Thiruvalla group of temples.
Trikkukkudi Cave Temple
Trikkukkudi Cave Temple, also known as the Rock Cut Cave Temple is a great archeological and tourist attraction. The Art and Sculpture in this temple is very famous. The temple has a verandah with a sculpture of Lord Ganapathi carved into the wall and inner sanctum containging a tall shivalinga, all carved out a one huge rock. It bears close resemblance to the Pallava style of architecture.
Trikkukkudi Cave Temple dates back to 8th century AD. The main deity is Lord Siva represented in the form of 3 feet high Sivalinga and is enshrined in a square cave (sreekovil) of the temple. The shrine also contains idols of Ganapathy, Maharshi and Dwarapalakas.
---
Kaviyoor Related Links
---