Mannadi Kavu
Kerala Tourist Places > Pathanamthitta >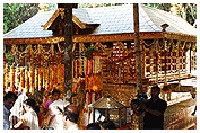 Mannadi, about 13 km away from Adoor is famous because of Velu Thampi Dalawa, a freedom fighter who sacrificed his life for the nation. The stone sculptures in the ancient Bhagavathy temple are remarkable. The annual festival is the Ushabali, held in February/March. Kalabali, Pooppada, Kaliyoottu, Adu vetti kurithi, Kalamezhuthum pattum, Navarathri kuruthi, Villu Pattum Kuruthi, and Ponnummudi Ezhunnellipp are the other important festivals of the temple.
Mannadi Bhagavati, is the family goddess of the Pandalam Royalty. Raja on his way to Sabarimala worships in this temple. There are many legends on the origin of this ancient temple. According to one such belief, Bhagavathy is 'Self Appeared' in this temple. An old lady was collecting grass from the present temple premises centuries ago. When she rubbed her sickle for sharpness on a stone, blood started oozing out from it. People gathered in the place and one of them suggested to beat the sand with force on the stone from which the blood was flowing. And when they did so the blood stopped. Thus the name 'Mannady' ('annu'means Sand and 'Ady' means beating).
Then the Perakkattu potty who reached the place announced that the stone is Devi "Self appeared" and the Velichappadu announced that the Devi is "Bhadrakali". The temple became famous as time passed. The river Kallada is flowing closely nearer to this sacred temple. The customs and traditions in this temple are peculiar and unique to this temple.
The Kerala Institute of Folklore and Folk Arts functions here.
---
Mannadi Kavu Related Links
---