Palaruvi Waterfalls
Kerala Tourist Places > Kollam >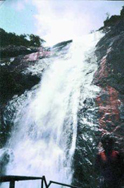 Palaruvi waterfalls is 5km away from Aryankavu on Punalur-Senkotai route. Palaruvi which means 'milky stream' makes its way down the rocks, from a height of 300feet. This is a beautiful waterfalls at a height of 92 meters above sea level. There are many other waterfalls around this place.
The palaruvi woods is a beautiful picnic spot. Palaruvi is a favorite location for tourists during rainy season when the falls is in its complete glory. There is seperate places for ladies and kids. Alcohol is strictly banned in this place. Ruins of an ancient temple is also there near Palaruvi.
The PWD Inspection Bungalow and the KTDC Motel offer comfortable accommodation. Palaruvi is in the Ariankavu Mountain range.
---
Palaruvi Waterfalls Related Links
---