Thevalli Palace
Kerala Tourist Places > Kollam >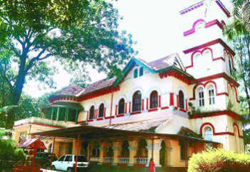 Thevally Palace is known for its architectural beauty. The palace is located on the banks of Ashtamudi Kayal. The palace built by the Maharaja of Travancore attracts a lot of tourists. There is a temple dedicated to Lord Sastha.
The natural gift is set amidst scenic surroundings covered by hills on the three sides. Thevally Kottaram was the residence of the monarchs of erstwhile Travancore when they used to visit Kollam. The palace is about 200 years ago, during the reign of Gauri Parvathi Bai, between 1811 and 1819.
The palace is at present the Kollam/Alleppey headquarters of the N.C.C. The Public Works Department also has its office here.
---
Thevalli Palace Related Links
---