Kozhikkode Tourist Places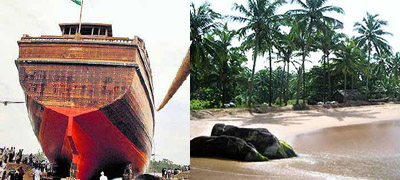 Kozhikode is the district with a great historical background. Kozhikode was the centre of an independent kingdom in the14th century, whose ruler was known as the Samoothirippadu or Zamorin. Kappad beach in Kozhikkode was where the Portuguese sailor Vasco Da Gama set his foot in Kerala.
Kozhikkode Beach, Kappad Beach, Thusharagiri, Beypore, Pazhassiraja Museum and Art Gallery, Kadalundi Bird Sanctuary, Thali Temple and Lokanarkavu Temple are some of the places of tourist importance. Art gallery and Krishna Menon Museum at East Hill, Lalitha Kala Academy, Planetarium, Pavayil Cheerpu, Peruvannamuzhi and Purakkattiri are the other major tourism spots in the district.
Tali Mahadeva Temple, Sree Valayanad Devi Temple, Sreekandeswara Temple, Azhakodi Devi Temple, Thiruvachira Temple, Lokanar kaavu (Vadakara), Pishari kaavu(Quilandy), Palayam Pattala Palli, Miskal Mosque, Muchundipalli, St.Mary's Church, Nadakkavu, and Mother of God Church are the pilgrimage centres of Kozhikode district.
Toursist Places