Kannur Tourist Places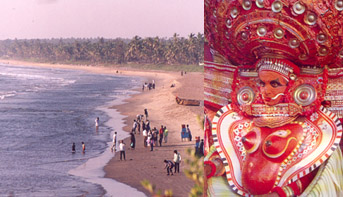 Kannur District is the major centre of Theyyam, a ritual dance of northern Kerala. Kannur has several beautiful beaches, some of them are Payyambalam Beach, Baby Beach, Meenkunnu Beach, Mopila Bay, Kizhunna Ezhara Beach, and Muzhappilangad Drive-in Beach. Aralam Wildlife sanctuary, Ezhimala, and Thalassery Fort are some of the tourist destinations.
Important places of worship are Parassinikadavu Sree Muthappan Temple, Madayi Mosque, Trichambaram Temple, Sree Mookambika Temple (Pallikunnu) and Rajarajeswara Temple. Kannur is easily reachable by road, rail, air and sea. The two airports at Mangalore, Karnataka in the north and Kozhikode in the south are just about 125 killometers away from Kannur.
Toursist Places