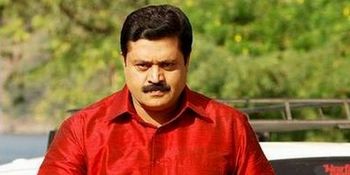 Kanchipurathe Kalyanam
Direction: Fazil Jayakrishna
Producer: Soman Pallat
Music Director: Jayachandran
Lyricst: Vayalar Sharath Chandra Varma, Rajiv Alunkal
Cast: Suresh Gopi, Mukesh, Jagathy Sreekumar, Navneet Kaur, Mukhta George, Jagadish, Suraj Venjaramoodu, Harisree Ashokan, and Manka Mahesh.
Kanchipurathe Kalyanam is the upcoming Malayalam movie in 2009 starring Mukesh and Suresh Gopi in the leading roles. The story revolves around two brother-in-laws, Rajeev Menon by Suresh Gopi and Pattaramadam Najeeb by Mukesh.
They run an event management company. The story gets interesting when they reach Kanchipuram to organize a wedding. From there a series of interesting events begin.
M. Jayachandran has scored music, lyrics are penned by Vayalar Sarath Chandra Varma. Planned to be a laugh riot, this film will hit theatres in May, 2009.