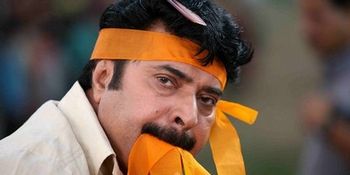 Pattanathil Bhootham
Cast: Mammootty, Kavya Madhavan, Innocent, Janardhanan, Rajan P Dev, Salim Kumar, Suraaj Venjaramoodu, Sphadikom George, Suresh Krishna, Telugu actor Ramraj, Bindu Panicker, Charutha
Director: Johny Antony
Producer: Hi Bright Movie Creations
Lyrics: Gireesh Puthencherry
Ee Pattanathil Bhootham is the upcoming Malayalam movie directed by Johny Antony. The film stars Mammootty and Kavya Madhavan in the leading roles.
Ee Pattanathil Bootham movie is about Jimmy ( Mammooty) who is an orphan. He is reared up by Krishnettan (Innocent)n and runs a street circus group. Jimmy and Sisupalan (Suraj Venjaramoodu), are the expert bike jumpers and their daredevil jump acts are the major highlights of the group.
This will be the first film in which Kavya dons the heroine role opposite Mammootty.
Pattanathil Bhootham is a fantasy-filled roller coaster adventure, aiming at kids who love Superman and Spiderman. Innocent, Jagathy Sreekumar, Suraj Venjaramoodu, Salim Kumar are also acting in this film.