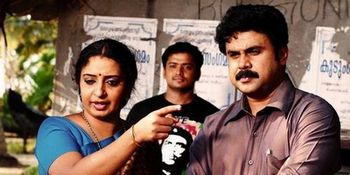 Passenger
Director: Ranjit Shankar
Producer: S.P.Pillai
Music Director: Biji Bal
Lyricst: Anil Panachooran
Passenger movie is based on two characters, who never had anything to do with one another, come into each other's lives and what all things happen consequently. The film stars Dileep, Sreenivasan and Mamta Mohandas.
The film, written and directed by newcomer Ranjith Sankar, stays away from cliches as far as possible. The backdrop of the film is a train journey and a group of people using the train daily to earn their livelihood. They become friends with the fellow travellers and pass their travelling time playing cards and gossiping.
Sathyanath (Sreenivasan ) who works in a private company, has some strange habits He travels from his native town to Kochi (where he works) by train. The moment the train crosses a bridge he dozes off. And he wakes up at a particular point. All this happens with utmost precision, as if programmed by someone.
There are numerous things going for this film apart from the basic story and the structure. On the whole, Passenger is worth your time and money.