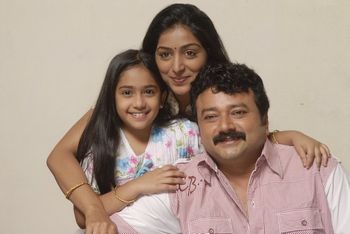 Kana Kanmani
Director : Akku Akbar
Scripted by : K. Gireeshkumar
Cast : Jayaram, Padmapriya, Baby Nivedhitha
Produced by : AAAN Media and Moser Baer
Camera : Vipin Mohan
Distributed by : Play House
Jayaram and Padmapriya play a couple who belongs to two different castes. They have a daughter named Anagha, played by Baby Nivedita.
Akku Akbar who formulated the biggest come back in Malayalam for Jayaram with Veruthe Oru Bharya is back with his star in the film Kanakanmani. With this film Akku proved he is here to stay.
Kanakanmani is a good film you can watch with family.