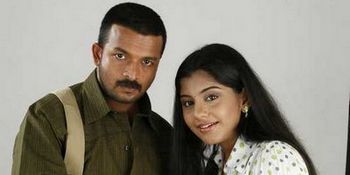 Currency
Cast: Jayasurya, Mukesh, Meera Nandan, Kalabhavan Mani, Siddique, Seetha, Suraaj Venjaramoodu, Anoop Chandran, Mamookoya etc.
Director: Swathi Bhaskar
Producer: BrijGill
Lyrics: Vayalar Sharath Chandra Varma, Santhosh Varma, Jofi Tharakan
Cinematography: Azhakappan
Editing: Manoj
Art Direction: Gireesh Menon
Screenplay: Swathy Bhaskar
Story Writer: Swathy Bhaskar
Currency is a recent Malayalam movie starring Jayasurya and Meera Nandan in the lead roles. The film contained the seed of an idea which could have been developed into a good thriller.
It's about a youngster named Keshu (Jayasurya), who has quit studies pretty early and has no real aim in life. He takes a copy of a currency note once and his life takes a new turn from then on. Mukesh plays Danny D'souza and Kalabhavan Mani is a mystery character called Iruttu or Darkness.
Overall, This is not a very bad film.