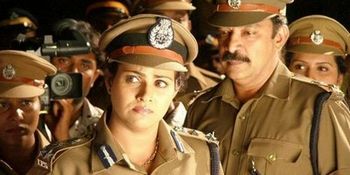 Black Dahlia
Banner: M.K. Productions
Cast: Suresh Gopi, Vani Viswanath, Babu Raj
Direction: Babu Raj
Production: M.K. Muhammed
Black Dahlia is a crime thriller directed by Babu Raj. Suresh Gopi role is that of a forensic psychiatrist in just a couple of scenes.
Story of Black Dahlia revolves around a bunch of girls whose parents are rich NRIs, studying Medicine, just as in Chinthamani Kolacase. A serial killer is killing off the girls one by one. Vani Vishvanath acts as DIG Daisy Wilfred.
Sri Lankan actress Tami Dushyantha, Tamil-Telugu actress Suja Naidu, Malayalee actresses Teena Ponnamma, Ruksha, Jisna Ali, Althara, Kavitha Nair, Pavithra, Thegika from Hyderabad and Sherry Minhas from Punjab are the ten heroines.
Special appearance by Remya Nambishan and Lekshmi Gopalaswamy in the song is good even though it was irrelevant for the film. Black Dahlia is an average thriller.