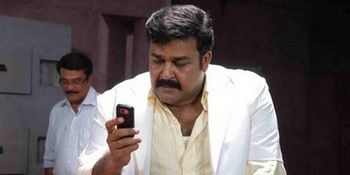 Bhagavan
Cast: Mohanalal, Lekshmy Gopalaswamy, Lakshana, Sreenath, Ibrahimkutty, Shivaji Guruvayoor, Lakshana, Lena, Sreelatha, Sreejith Ravi
Direction: Prashanth Maambulli
Production: Vijeesh Mani
Bhagavan is the Malayalam movie which made history by completing its shoot in just below 17 hours. Directed by debutante Prashanth Mambully, the movie tells a plot based on anti-terrorism.
Bhagavan is about Dr Balagopal(Mohanlal) a gynecologist in a private hospital where the wife of the HomeMinister(Sivaji Guruvayoor) of the state is about to deliver a baby.Terrorists attempt to steal the baby and hold it for the release of some accomplice.And bombs are supposedly planted across the state.The movie is about how Dr Balagopal tackles the situation.
'Bhagavan' also features a big star cast including Ibrahimkutty, Sudheesh, Lakshmi Gopalaswamy, Shafna, Lena, Lakshana, Anu Anand and Nanda Paalat in other important roles.