Vairam : Family oriented investigative thriller
8 Jul 09, 10:12am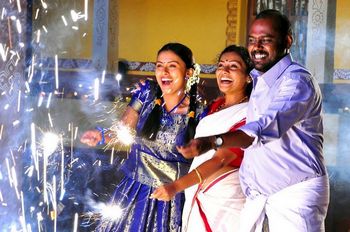 While the question, how directors get producer still remain unanswered, another film is getting ready in M.A Nishad's stable.

His last movie Aayudham featured Suresh Gopi in the lead managed to run for some days in theatres. Nishad debuted with Prithviraj starrer Pakal. Nagaram was his second film.
This Politician turned director was happy to make movies which featured stories about contemporary matters in the society.

M .A Nishad's new flick titled Vairam has a big cast line.

In Vairam, Suresh Gopi dons the lead. It has Tamil actor Pashupathy, and popular stars like Jayasuriya, Mukesh and Kalabhavan Mani in pivotal roles. Samvrutha, and Meera Vasudevan will share the heroine's crown.
This family oriented investigative thriller has Pasupathy donning the character of bank employee Sivarajan, who is married to Devi enacted by Meera Vasudev and has a daughter Vairamani played by Dhanya, a plus two student. Tamil actor Pasupathy is back in Malayalam after Big B. Vairam will be his second Malayalam film.

The film is based on story by the director. Script written by Cherian Kalpakavady takes a twist when the daughter succumbs to a catastrophe and the father goes in search of the truth.

Sivarajan fights for justice, as he looses his daughter who is raped and killed by Thalikkulam Josootty. When the law was blinded by political and money power, he had no other option than to hunt down Josootty.

An investigative journalist, Annie Jacob (Samvritha Sunil) of a popular magazine diggs up the whole story, which becomes a sensation.

An offbeat advocate Ravi Varma (Suresh Gopi) takes up the case for re investigation. The DYSP of crime branch Thomas Erali (Mukesh) investigates the crime with great zeal, and then the real truth is exposed. The advocate, police officer, and the journalist together start the fight for justice.

Thilakan, Hari Sree Ashokan, Kpac Lalitha, Ashokan, Rekha, Urmila Unni, Biyon are also in the cast. The film is based on a real life happening reported in Kerala.

Sanjeev Sankar wields the camera. Lyrics are by Gireesh Puthenchery and M. Jayachandran scored the music. Art by Gireesh Menon, Costumes Sunil Rahman, Make up P.N.Mani, and Stills by Mahadevan Thampi.

The shoot has begun in April at Theni. Other locations are Ernakulum and Thodupuzha. The film will be released soon after its post production is completed.

N Siva Rao of N.S.R India limited produces the film.
Vairam Movie Photo Gallery