Sound Thoma: Dileep as a cleft-lipped person
21 Mar 13, 06:12pm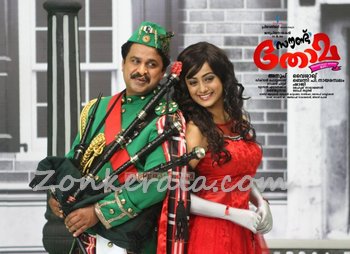 Directed by: Vysakh
Written by:Benny P. Nayarambalam
Producer:Anoop
Distribution: Priyanjali Films
Cinematography: Shaji
Editing: Mahesh Narayanan
Music: Gopi Sundar
Lyrics: Rajeev Aalunkal, Murugan Kattakada
Make up: Roshan N G

Starring: Dileep, Namitha Pramod, Nedumudi Venu, Suraaj Venjaramood, Vijayaraghavan, Mukesh, Sai Kumar, Shiju


Sound Thoma is the forthcoming release of Janapriya Nayakan Dileep. He appears in a different get up as a cleft lipped young man, Thoma, with a defective voice in this flick. Sound Thoma is directed by Vysakh. Dileep's brother Anoop produces the film under the banner Priyanjali Films.

Benny P Nayarambalam has written the story. Shaji is the cinematographer, while Mahesh Narayanan does editing. Music is composed by Gopi Sunder for the lines of Rajeev Alunkal and Murugan Kattakada. Roshan N G does the make up.

Namitha Pramod is the leading lady in Sound Thoma as a RJ with a sweet voice. Thoma loves this girl. She made her debut as a heroine in Puthiya Theerangal. Sound Thoma is the story of a wealthy young man who has cleft lips and has a defective voice due to his defective lips.

Nedumudi Venu, Mukesh, Sai Kumar, Suraaj Venjaramood, Vijayaraghavan, Shiju and many others are in the cast of Sound Thoma.

The role of Thoma will be another milestone in Dileep's career. He had earlier done different type of roles in films like Kunjikkoonan, Chandu Pottu.

After understanding the problems faced by cleft lipped people, the makers of 'Sound Thoma' is organising free surgeries to 100 children with cleft lips in association with the Kinter Women's Hospital at Cherthala from April 3 to 10.

Sound Thoma is releasing on April 5, 2013. Zonkerala.com wishes the cast and crew of Sound Thoma a grand success.
Sound Thoma Movie Stills