Rose Guitarinaal: A Musical Romance Film
22 Feb 13, 03:13pm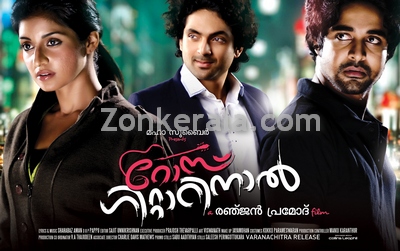 Directed by: Ranjan Pramod
Written by: Ranjan Pramod
Producer: Maha Subair
Banner: Varnachitra Big Screen & Colour Pencil Films
Cinematography: Pappu
Editing: Sajit Unnikrishnan
Music: Shahabaz Aman
Lyrics: Shahabaz Aman
Costumes: Kukku Parameswaran

Starring: Manu, Athmiya, Rejith Menon, Richard Joy Thomas, Jagadish, Anna Bella, Thara Kalyan


Scenarist turned director Ranjan Pramod is coming up with his new movie Rose Guitarinal. The film is produced by Maha Subair under the banner of Varnachitra Big Screen and Colour Pencil Films.

The story is written by the director himself. Music is written and composed by Shahabaz Aman. Pappu is the director of photography. Costumes are by Kukku Parameswaran.

Rose Guitarinal is a romantic movie with good music. The film tells a triangular love story.

The song in the movie 'Chutti Varum Katte' is the first song in Malayalam Cinema to be shot in a single shot with no cuts. The film comes up with an array of new faces. Manu and Tamil actress Athmiya are in the leading roles along with Rejath Menon, Richard Joy Thomas, Jagadish, Anna Bella, Thara Kalyan and many others.

Rose Guitarinal is the story of a girl named Tara, a lower middle class girl. Her father is unemployed and her mother left home years ago. She gets campus selection to become an air hostess and the film tells the story of the 21 days in Tara's life after she gets selected.

Tara has to adjust to the new surroundings unknown to her, higher class people, clothes she has to wear and English language all becomes a problem for her. But she has to survive and the film tells the story of Tara's experiences. She has to go for the company's new year party and it is also the first time in her life she has to attend one. Will she go and what will happen forms the rest of the story.

Rose Guitarinal is expected to reach theatres soon.
Rose Guitarinaal Movie Gallery