Rahasya police review
23 Jul 09, 04:32pm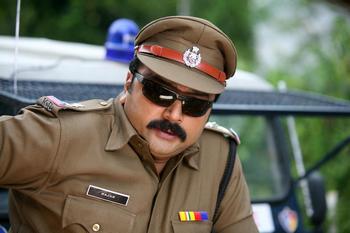 K. Madhu who is synonymous with suspense thrillers in Malayalam is back to take the viewers for a guessing game. Though the man who made CBI series was not able to enthrall the audience, he is able to deliver a few surprises.
The film starts with shots of morning and get into the scene in police station where the feud between Kunnath Kaimal enacted by Jagathy and Parambath Raju by Ganesh Kumar get revealed.
Films dullest scenes are at the beginning. Before people identifies with the characters, a girl missing case happens in the neighborhood of where the protagonist live. Jayaram is the inspector who handles the case. His second role as Chala Mani comes close to interval.
Scenes in which Jayaram acts double role are taken with out challenging viewing sensibility. Wits by Suraj are good but are not soluble with the otherwise dull narration. Some characters that first seem to be significant vanish without trace towards the finish.
K. Madhu works with Venugopalan as cinematographer in Rahasya Police. Venugopalan who have filmed Jalolsavam, Collage Kumaran and many other films still seems to be interested in rotating the camera.
Editing by P.C Mohanan is mediocre.
Scenes are canned more or less the same way as other Malayalam films. The director appears to be cheerfully irresponsible for his film making style and is carefree about changes that happen in filmmaking in Tamil industry and Bollywood.
When Jayaram appear as police officer, his viewers which mostly constitute family take a back seat and he doesn't appear to be much popular among youth. So who comes to watch the film on weekdays is a question.
As many K. Madhu films, this flick also doesn't carry a song.
After SAJ mishap S.N Swamy bets on his regular suspense thrillers format. Viewers started to realize the stale story structure, which nowadays provide no magic as the genre itself got jaded with the same old treatment.
The climax of the film is good, which itself reason with critics.
If you are serious viewer and have seen many films by S.N Swamy chances are you can win the guess before the story reveals the culprit.
Kokers films that made many hits has produced and distributed the movie.
Rahasya Police is a watchable flick.
Thanseer M.A
2.5/5
Rahasya Police Movie Home