Rahasya Police: Jayaram's triple role with five heroines
22 Jul 09, 10:14am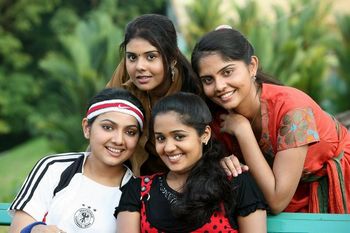 Cast – Jayaram, Mangala, Samvrutha Sunil, Sindhu Menon, Ayilya and Shivani
Director - K. Madhu
Producer – Siyad Kokker

Seems like Kamalhaasan's, Dasavatharam has set the creative juices running for Malayalam film creatives, or was they bitten by triple role bug.

After the film Randam Varavu in 1990 K. Madhu and Jayaram is back together after 19 years. The movie Rahasya Police is a murder investigation thriller featuring Jayaram in a triple role. Earlier it was rumored that Jayaram would be doing a double role in the film.

In Shaji Kalas' Raghupathi Raghava Rajaram, Prithviraj is also playing triple role.

Investigative specialist S.N. Swamy who is Madhu's favorite, is writing scenes for this thriller. He has made some of the best investigative thrillers and is a cult figure in Malayalam. His latest film Sagar Alias Jacky was a disappointment.

The protagonist of the movie is the local sub inspector; Jayaram's second role will be a Goonda called Chalai Mani and the third will be an investigating officer from the CBI who is under cover on an important mission. It is the first time Jayaram does a triple role in Malayalam.

The film's shoot has already commenced. Rahasya Police will feature five heroines including Mangala, Samvrutha Sunil, Sindhu Menon, Ayilya and Shivani.

Jayaram is playing a funny cop after a long time. Jayaram has no remember able police role in his long career. His goonda roles were also not popular. Audience has to wait and watch how he enacts the roles differently and with conviction.

Rahasya Police is rumored to be based on Peter Sellers The Pink Panther series.

Jayaram's latest release Bhagyadevata, starring popular South Indian beauty Kaniha is a chart topper.

Rahasya Police is produced by Siyad Kokker under the banner of Kokkers Films. The film is all set to release.
Rahasya Police Photo Gallery