Puthiya Mukham Review
24 Jul 09, 04:31pm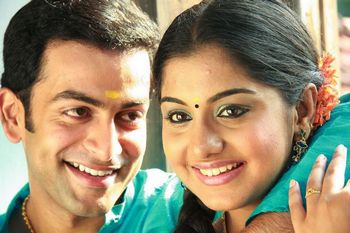 Review 1
The undisputed director for future Malayalam action flicks has made his debut in Kerala at 11AM. Today morning Deepan, associate to director Shaji Kailas released his first feature.
The spark of freshness perceived through posters has been seen manifold in theatre.
The story which is quiet simple has got naught novel.
Prithviraj (Krishna Kumar) comes to college to study engineering. Being a Mridangam artist he gets undue attention from opposite sex.
Bala who is the rich guy in college likes to marry Priyamani who is also his family friend. Priyamani is a fresher and in Krishna Kumar's class. Like many other girls, she too gets attracted to him and gives him special care. Bala feels insulted and tries to regain her.
The story takes a backseat here the rest are all kicks, punches and slaps. It is at this portion Puthiya Mugham becomes unique. The director takes effort to give each fight an individuality which bestows beauty.
Fans call him the upcoming Megastar. Fighting machine Prithviraj proves to be the Numero Uno angry youth in Malayalam Industry.
Bala has good role. This will be the second role for Bala to gain him some attention in Malayalam. Earlier with his character in Big B he pocketed major roles in more than twenty films, now Puthiya Mugam will provide him roles till his next hit.
Meera Nandan who is also making her presence felt in Tamil is eye candy as the lover of hero. She has the look, Color and flavor of a natural malayali girl.
Priyamani is the heroine. Sudheesh and Jagadheesh are funny at times and have managed not to overact. Lots of young artists acted in this film and have done their part well.
Script by Sindhuraj has got flow. The hard work in pre production stage is visible. The characters are natural. But people cannot identify intensity of their motive. Each action and dialogue is backed by a reason. The film does not have big dialogues or preachy speeches.
Watching Puthiya Mugham is like viewing a Tamil film with the sensibility of Malayalam. Each scene is taken richly. Scores of people are managed and were filled in frame.
Camera by Bharani K. Dharan sets the tensity. Action director Analarassu needs special mention. Editing by Samjith MHD is good. Graphics, Background are all in tune with cinema. Couple of songs seems to be hit.
Technically this film has surpassed most Malayalam films. Puthiya Mugham can't boast much, but will punch your face, roll you in floor and slug you to wall.
Deepan is proving film is more visual orientated than tailored to story.
It is high time a through out action film has sold tickets in counter. As they say in poster Puthiya Mugham is for the youth and this will be a new beginning.
Puthiya Mugam is an above average action flick which proclaims thunderously the entry of a new star, director Deepan .He is the film director of youth for the coming years.
Thanseer M.A
Verdict : 3.5/5 Hit
Review 2
Puthiya Mugham directed by Dhipan starring Prithviraj,Priyamani,Bala and Meera Nandan has nothing new to offer.It is a typical tamil action movie..the only difference it is in malayalam. as a long way to go before he is a good director.This one is an overdose of technology and the camera work is below par. Editing by Shamjith,as in his previous movie Red Chillies is hell confusing and really irritating to watch. Like technology something else that is overdose are the colors with even walls of the protagonist's house painted with bright orange.
The plot is the typical Ambi turns Anniyan plot...I use Anniyan and Ambi because the the characterisation of Krishnakumar(Kichan),played by Prithviraj, is based on Anniyan. Prithviraj did a very bad job with the role. It feels as if he has the same expression throughout the second half of the movie. Meera Nandan plays Sree(Kichan's fiance),has virtually nothing to do except for some romantic scenes with the hero and the usual soap melodrama. Priya Mani plays a Anjana a classmate in an engineering college of Kichan whose friendship with Kichan alters his life. Then as in all those action movie there is a villain..Sudhi played by Bala...he is the local goon,the college rowdy,sibling of the city Godfather..gangster. blah blah blah blah....and more importantly fiance to Anjana. And the rest of the plot as any moviegoer could is imaginable.....
The music by Deepak Dev is the only factor that attracted me even that fails sometimes. The song Pichavecha is a real treat all other songs are average...The song Puthiya Mugham somewhere resembles O Naran...The sets and props for Pichavecha looked impressive but the movie is a let down in the art department as well....Dhipan and crew seems to know the techniques of their trade but none of them has taken interest in the aesthetics.....Some scenes in the climax fight sequence is real bad....the fight scenes resemble typical Tamil movie...breaking furniture,floating and flying villains.....ultra slow motion and the Panneenga than koottama varum singham single a varum attitude of the hero.Being an engineering student something that was evident was none of the crew has gone to an engineering college..the depiction of the college is utter crap...having been part of an engineering college for four years....felt pity in the way the college scenarios were presented..
Jose Thomas
Verdict: Watch Classmates one more time.....1/5
Puthiya Mukham Photo Gallery