Punyalan Agarbattis: Mass Entertainer from Jayasurya
22 Oct 13, 10:06am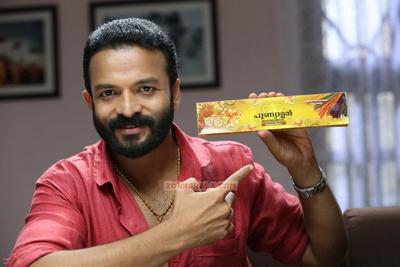 Punyalan Agarbattis is the upcoming movie from Jayasurya, directed by Ranjith Sankar. Nyla Usha, Aju Varghese, Rachana Narayanankutty, Innocent and many others are in the cast.
Punyalan Agarbattis is produced by Jayasurya and Ranjith Sankar under the banner of Dreams N Beyond. Music composed by Bijibal for the lyrics of Santhosh Varma.
Cinematography is by Sujith Vasudev and is edited by Lijo Paul. Screenplay is written by Ranjith Shankar along with Anil Kurian and Abhayakumar. Jayasurya play the role of Joy Thakkolkkaran, a Thrissur based businessman who makes Agarbattis from elephant droppings.
Nyla Usha is the female lead, playing the role of Jayasurya's wife, who is a modern lady working in the Telecom sector. Nyla Usha is a Dubai based Radio jockey who was earlier seen in the Mammootty movie Kunjananthante Kada.
T. G. Ravi, Mala Aravindan, Edavela Babu, Shivaji Guruvayur, Sunil Sukhada are also in the cast. Innocent play the role of Joy's grandfather in this film. Jayasurya sings a song for this film. The shooting of Punyalan Agarbathis started in thrissur in August.
https://xanax-buy.net/
Punyalan Agarbattis Movie Gallery