Pranayam: Mohanlal & Blessy together for the 3rd time
25 May 11, 07:49pm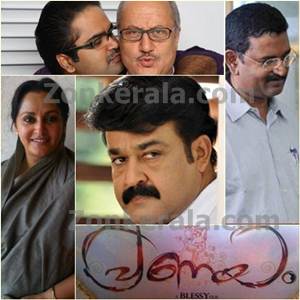 Director: Blessy
Story, Screeplay : Blessy
Produced by: Sajiv and Annie Sajiv
Banner: Fragrant Nature Film Creations
Camera: Satish Kurup
Music: M. Jayachandran
Lyrics: ONV Kurup
Star Cast: Mohanlal, Jayaprada, Anupam Kher, Anup Menon

After the success of Thanmatra in 2005 and Bhramaram in 2009, Mohanlal joins hand with Blessy for another film titled 'Pranayam'. The film is a triangular love story of yesteryears. Bollywood actors Jayaprada and Anupam Kher are in the key roles in this movie.

New comer Sathish Kurup handles the camera, while M. Jayachandran scores music for the lyrics penned by ONV Kurup.

Pranayam started rolling in Kochi on Valentines Day. The first schedule is completed and the second schedule will start by May end.

Anup Menon play another important character in Pranayam. Jayaprada and Mohanlal were together in the movie Devadoothan. Anupam Kher has appeared in small roles with Mohanlal in the films Praja and Indrajalam. But in Pranayam, he appears in an equal role to Mohanlal's character.

Pranayam tells the romantic story of three people who lives with the memories of their college love. Mohanlal appears with get ups of a writer.

Sajiv and Annie Sajiv produce the movie under the banner Fragrant Nature Film Creations.

Zonkerala.com wishes Blessy and Mohanlal to re-create the magic they made in Thanmatra and Bhramaram.