Pazhassi Raja Review
16 Oct 09, 05:05pm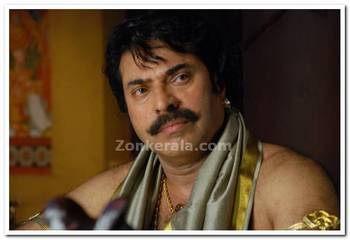 Making a historical film is not something everyone can do. Hariharan who is the director of 'Oru Vadakkan Veera Gadha' is back with his trump card M.T Vasudevan Nair and effectively supported by Mammooty in the new venture Kerala Varma Pazhassi Raja has graced theatres this morning.
The Film is about Pazhazzi Raja's fight against British East India Company to withdraw Company's power and army from the state of Kottayam. Kerala Varma questions the logic of Foreigners who came as traders are now collecting tax and governing the country. The amount fixed as tax by Company was unreasonable and people didn't have the capacity to pay that much.
People gave stiff opposition to the company on the tax issue. The film starts with Veeravarma played by Thilakan making a letter to company that he will collect taxes on their behalf. In the latter part Thilakan disappears from the film and Pazhayamveedan Chandhu played by Suman gains prominence. Pazhassi who does guerilla warfare provide great defense and creates atrocity to British. So Company makes a treaty with Kerala Varma which was later not followed by the former. This provokes Kerala Varma to start war.
Mammooty has taken effort to portray his character.
Sarath Kumar is Edachena Kunkan as the right hand of Kerala Varma is a delight to watch. His manliness and devoted character provides an air of dignity when ever he is onscreen.
Kaniha as Pazhassi Raja's wife Makkam adds glamour. Manoj K. Jayan has showed his acting capabilities. Suresh Krishna as Kaitheri Ambu gets chunk of a role in this film. Suman and Jagathy were good.
Lalu Alex as Emman Nair, Captain Raju as Unni Mootha gives good support to Pazhassi. Actors who acted as British East India Company's employees did well. Peter Evans as Major James, Harry Key as Thomas are to be specially mentioned.
The song 'Aadi ushas sandya' starts with Kerala Varma Pazhassi Raja's white horse coming through water, which can be considered as one of the most beautiful shot in Malayalam cinema.
The negatives are, Padma Priya who appears as an Adivasi girl has dubbed herself and a foreign slang is noticed. In individual fight scenes, the choreographed action (rope) looks awkward. This film can't be said to be thoroughly entertaining. It doesn't bring the spirit of fighting. Historians may say the story is manipulated history.
The film has successfully recreated 18th century. Art director and his crew have done great work. Unlike other films this film starts with out showing technicians name.
This incomparable movie is three hours fifteen minutes long. Quality wise the film can be compared with Hollywood movies. Putting a mark for this film will be my ignorance as we can't compare gem with gold.
Applause goes to Hariharan who captained this ship. Writer M.T Vasudevan Nair is one of the key brains behind this artwork. The camera by Ramanth Shetty is classic. Sound design by Resul Pookkutty stands out. Ilayarajas scoring may not be very well received.
Pazhassi Raja which is made at a gigantic budget by Gokulam Gopalan is worth spending every dime.
Thanseer M.A
Submit User Reviews Here
Pazhassi Raja Photo Gallery