Pattanathil Bhootham Review
9 Jul 09, 03:43pm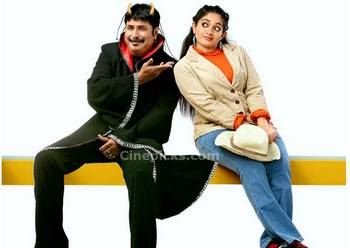 Johny Antony who has carved his own brand in Industry with colorful comedy entertainers, which are more appealable to children, is back with Megastar Mammootty.
Film's story moves around like that of adventure tales in Balarama. Unlike the magazine which attracts children and elders, this film seems to maintain only the attention of kids.
An evil magician gets the power over a Bhootham. He plans to use it for his filthy activities. The sorcerer loses Bhootham in an accident and it gets into the hands of children in the circus tent. It was the time when a foul play has taken place over the ownership of this circus. Kavya arrives as the daughter of circus owner played by Janardhanan who gets killed. What follow is conflict between good and the evil.
Mammootty does a double act of Bhootham as well as Jimmy, the circus stunt man. Mammooty's character Jimmy is eye candy while his second character won't appeal much, mostly due to the childish voice which may get misidentified.
E Pattanathil Bhootham is Kavya Madhavan's maiden film released after her marriage. Kavya has only a limited role in the film, though she plays an important character.
Animation done in film is visible to the eyes of every other viewer who are watching visual amusements round the clock. Story line, characters, situations are all predictable and it is ok for a fantasy film like this. But it should have bound the viewers with its visual extravaganza.The film makes us remember Sakshal Sreeman Chathunni by Anil Babu.
Comedy by Suraj and Salim Kumar works well. Music by Shaan suits to film but is unimpressive.
Johny Antony's E Pattanathil Bhootham was expected to release earlier during the school vacation but was postponed due to its pending post production works. The late release may hamper the film in many counts. The film has got every element to entertain the audience but somewhere it got lost in transition.
Johny Antony and his team have taken great effort in building up this two hour forty minute output. Young citizens can get ready to be amused.
Thanseer M.A
2.75 / 5
Pattanathil Bhootham Photo Gallery