Orma Mathram: A Family Drama in progress
14 Feb 11, 11:33am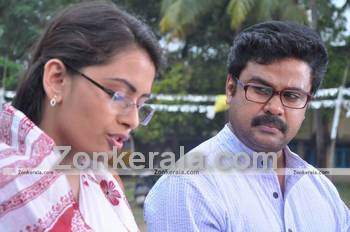 Director: Madhu Kaithapram
Banner: Horizon International
Producer: Doha Rajan
Story: Rahim Kadvath
Screenplay & Dialogue: C.V.Balakrishanan
Camera: M J Radhakrishnan
Music: Kaithapram Viswanathan
Lyrics: Kaithapram Damodaran Namboodiri
Cast: Dileep, Priyanka, Nedumudi Venu, Jagathy Sreekumar, Lalu Alex, Manoj K Jayan, Edavela Babu

Orma Mathram by director Madhu Kaithapram, has Dileep in the leading role. This is Madhu Kaithapram's third directorial venture after Ekantham and Madhyavenal.

Nedumudi Venu, Jagathy Sreekumar, Lalu Alex, Mini Arun and Dhanya Mary play major roles in Orma Mathram. Doha Rajan produces the movie under the banner Horizon International.

Dileep acts as Ajayan, a subordinate to Jagathy Sreekumar, who is a lawyer named Warrier Vakkeel. Priyanka plays the role of Dileep's wife Safia in the film. Both Dileep and Priyanka have promising roles in this movie. Dileep's character has a small family consisting of his wife and son, Deepu and they go through unexpected problems in life.

Ajayan who had an inter caste marriage lives a happy life at Kochi, when a tragedy strikes them. How the family overcomes the tragedy is the rest of the movie.

M.J Radhakrishnan handles the camera, while Kaithapram Viswanathan tunes the songs written by Kaithapram Damodaran Namboodiri.

Orma Mathram has its story written by Rahim Kadvath. Script and Dialogues are by C.V.Balakrishanan. Orma Mathram has its locations at Ernakulam, Tirupur and Coimbatore.
Orma Mathram Movie Stills