Louis Araman: Prithviraj as a seminary student
23 Nov 11, 11:50am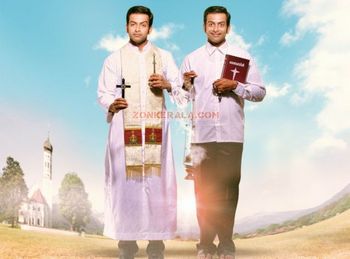 Star Cast: Prithviraj
Direction: Jeckson Antony, Regish Antony
Banner: Cinema Movies
Written by: Babu Janardhanan
Producers: Biju John, Santhosh Mathai
Cinematography: Madhu Neelakandan
Music: Mejo Joseph

Prithviraj plays a priest in the upcoming movie Louis Araman, directed by new comers Jeckson Antony and Regish Antony.

Louis Araman is scripted by Babu Janardhanan and is produced by Biju John and Santhosh Mathai under the banner Cinema Movies. Music is composed by Mejo Joseph. Cinematography by Madhu Neelakantan.

The story of Louis Araman revolves around the character named Louis who is forced to join the Seminary because of his parent's wishes. He was born to them after a lot of prayers; so they decides to make him a missionary. But Louis has some other plans for his future.

The story progresses with a touch of humour and comedy. Prithviraj will have a different look of a seminary student in this film.
Louis Araman Movie Stills