Kana Kanmani Review
4 Sep 09, 03:26pm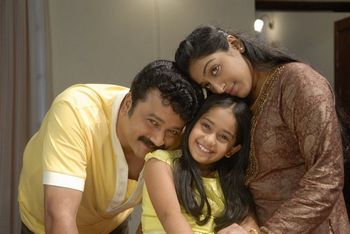 Akku Akbar who formulated the biggest come back in Malayalam for Jayaram with Veruthe Oru Bharya is back with his star in the film Kanakanmani. With this film Akku proved he is here to stay.
In Kanakanmani Akku comes up with another socially relevant subject which happens in every neighborhood.
Borrowing from a proverb it can be said that, no one can stop a director and an actor whose time has come. Jayaram who had the biggest festival of flops came back to stardom with Veruthe Oru Bharya. Akku Akbar of Akbar Jose hasn't had many successes before he made VOB.
More than the technicalities of making a film, every director should know the alchemy of mindset of audience. The film hasn't got many things that distinguish it from the rest; rather Akku plays with the perception of audience.
For Akku the biggest success and a bigger obstacle was VOB as People could not give consecutive successes, but Akku proved he is different. He managed to tackle the obstacle with ease.
Any thing I write about story will only hamper enthusiasm of the future viewers. Kanakanmani will be new experience for Malayali audience.
Don't wait to watch it later, as you may not get the tickets. The success of Veruthe Oru Bharya seems to repeat with Kanakanmani.
The script is written by Gireesh Kumar who also has written for VOB, Amritham, Alice in Wonderland and many earlier unsuccessful films. In films the time has to come and correct people have to couple to deliver good films.
Acting by Baby Niveditha is excellent. Jayaram is eye candy, Padmapriya as a nagging housewife is good. Biju Menon looks handsome.
Suraj Venjaranmood gives good backing with humor.
Songs by Shyam Dharman are ok.
Kanakanmani is a good film you can watch with family.
Thanseer M.A
3.5/5
Kanakanmani Photo Gallery