Kammath & Kammath: Mammotty & Dileep as Kammath brothers
23 Jan 13, 05:56pm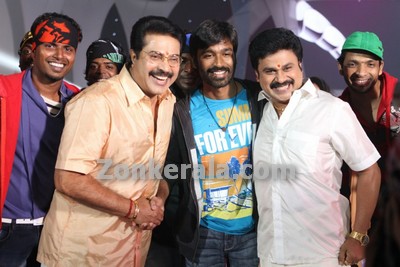 Directed by: Thomson K Thomas
Written by: Udayakrishna-Siby K. Thomas
Banner: Anto Joseph Productions
Cinematography: Anil Nair
Editing: Mahesh Narayanan
Music: M Jayachandran

Starring: Mammotty, Dileep, Dhanush (Cameo), Rima Kallingal, Karthika Nair, Narain, Baburaj, Janardhan, Suraj Venjaramood


The movie Kammath and Kammath starring Mammootty and Dileep as Kammath brothers is all set to release. Thomson K Thomas directs this much expected movie, which also has Tamil actor Dhanush playing a cameo role.

Rima Kallingal and Karthika Nair are the heroines. Narain, Baburaj, Janardhanan, Suraaj and many others are also in the cast.

Anto Joseph Productions produces this movie which tells the story of Kammath brothers who have a chain of restaurants. They take up an old restaurant at Palakkad and start their Dosa outlet in this location. The hotel has a competitor who sells Biriyani and is not happy with the arrival of the Kammath brothers. The problems that follows form the crux of the story.

Udayakrishna - Sibi K Thomas team writes the screenplay for this flick, which has Konkani language spoken by the title characters. Anil Nair cranks the camera. Mahesh Narayan does editing. M Jayachandran composes music.

The film has a song sequence featuring Mammootty, Dileep and Dhanush, which is made at big budget of Rs. 50 lakh.

Kammath and Kammath hits the theatres on January 25, 2013.
Kammath and Kammath Movie Stills