Kaanakkanmani : Jayaram and Akku Akbar again
2 Aug 09, 11:02am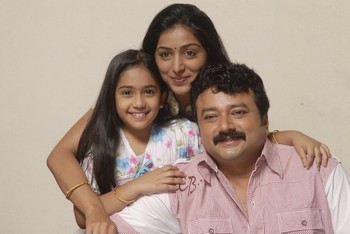 Cast – Jayaram, Padmapriya
Director – Akku Akbar

After the magnanimous success of Veruthe Oru Bharya in 2008, Jayaram, Akku Akbar, K. Gireesh Kumar, Shyam Darman and Cameraman Shaji teams up again for the new project Kaanakkanmani.

Akku Akbar who was earlier part of Akbar-Jose team has debuted independently with Veruthe Oru Bharya which turned out to be a comeback movie for actor Jayaram after more than five years of struggle with flops.

Veruthe Oru Bharya was also the first successful film for Gireesh Kumar.

Akku Akbar is getting ready with his second project titled Kaanakanmani, starring Jayaram again in the lead role.

Kaanakanmani will be K. Gireeshkumar's fifth script for Jayaram. Gireeshkumar-Jayaram has earlier made films like Alice in Wonderland, Amritham, Veruthe Oru Bharya and Samasthakeralam PO.

The film is based on family subject and the shooting has commenced in Peeramedu. Padmapriya is the heroine of Kanakanmani. Baby Niveditha who is popular through movies like Palunku, Mouse and Cat and Bramaram is doing an important role.

This is Moser Baer Entertainment's debut Malayalam production.

The film was launched on June 18 at Kuttikanam. The pooja function was attended by celebrities including directors Ranji Panikkar.

The film is expected to be completed in 40 days schedule, of which 18 days shoot, will take place at Kuttikanam.

Music is by Shyam Dharman and Camera by Shaji.

Kanakanmani will be released by Mammootty's production company Play House. This will be the first film distributed by Play House. Other films in the list are Ritu and Neelathamara, both the film has new faces as the lead. Play House will also produce films.

Kana Kanmani will grace theatres in Onam.
Kana Kanmani Photo Gallery