Ivar Vivahitharayal Preview
10 Jun 09, 01:21pm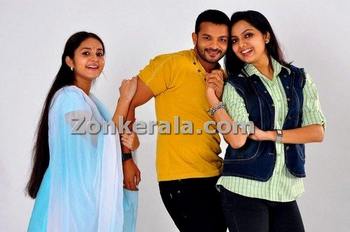 Cast: Jaya Soorya, Bhama, Navya Nair, Samvritha Sunil, Sai Kumar, Siddique, Devan, Nedumudi Venu, Suraj Venjaramoodu, Suresh Krishna, Anoop Menon, Rekha, Kala Ranjini, Mallika Sukumaran, Manian Pillai Raju, Suresh Kumar, Pradeep Prabhakar

Banner : Kunchuveettil Creations
Director: Saji Surendran
Producer: Gopakumar

Lyrics: Gireesh Puthenchery
Camera : Anil Nair
Script : Krishna Poojapura
Music Director: M. Jayachandran

Ivar Vivahitharayal Starring Jayasurya in the lead role will hit the theatres in June. There are three heroines in this film: Bhama, Navya Nair, Samvritha Sunil. The story revolves around Vivek (Jayasurya) and Kavya (Bhama), two youngsters who have different outlooks towards life. What will happen if they get married is the theme of this movie.

Vivek completed MBA and wish to get married to bring his parents together. Vivek's parents are parted and there is no one for him to make a joint move for his marriage. Siddique and Rekha play the role of Vivek's parents. They become shocked hearing their son's decisin, who is very young to get married.

Then he finds Kavya, a radio jockey who has big ambitions in life. She wants to own the world with her sweet voice. Vivek thought he could roam around and make fun with his friends even after marriage. But when Kavya comes to his life, his dreams went wrong. Since she has a definite outlook about life, Kavya finds it difficult to adjust to Vivek's ways.

Samvrutha Sunil's character is Treesa. She is a close friend of Vivek. But when she intrudes into the couple's life, things beomes more serious. Navya Nair acts only in one song, which depicts Vivek's idea of his wife. "Poomukha vathilkkal sneham vidarthunna poonthikalakunnu bharya " from Priyadarsan film Rakkuyilin Ragasadassil, has been included in Ivar Vivahitharayal for the situation.

The movie also talks about the relationship between career-oriented parents and their son who grows up to be a spoilt brat who leads a care free life.

Under the banner of Kunchuveettil Creations S.Gopa Kumar is producing the film. Gireesh Puthencherry has penned the lyrics and M.Jaya Chandran has scored the music. Anil Nair wields the camera.

Zonkerala.com wishes Ivar Vivahitharayal team a grand success.
Ivar Vivahitharayal Photo Gallery