Daddy Cool Review
7 Aug 09, 07:31pm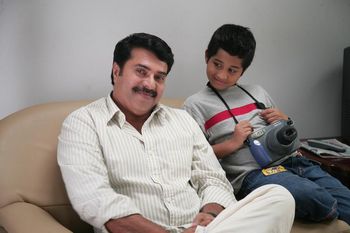 As they say in politics, 'catch them young' is the phrase Mammootty seems to follow these days. He appears to have more friends in schools than in colleges.
Debutant Ashiq Abu has done good work though his script is weak. Many characters are one dimensional.
Kid actor as Mammootty's son fetches viewer's affection. Richa Pallod adds freshness to frame. Biju Menon makes a strong presence as the friend of protagonist. Saikumar portraits the character of a senior Crime Branch official. Rajan .P. Dev and Bheeman Raghu flicks in a scene.
Story
Mammootty is a crime branch officer who is very attached to his son. He is a cricket fan and is lazy. The first part showcases the relationship between the son and his dad and how it creates problems in his career. The later part deals with how his career affects family. The story tries to satisfy all those who watch the film by equally giving importance to sentiments, action and style and is successful to a big extend.
In the film there are many references to Mammootty's old hits. High decibel background music is used in many places. The monologue in the first part by Richa Pallod is a cliché in even cliché's standard.
Sameer Thahir has done his work, but don't expect anything above average.
Title graphics by Rajeev Gopal. K is astounding. Viewers get thrilled to watch the graphics which singularly holds the audience till interval. The film decelerates after the title graphics.
Songs are good and Generation Y enjoys singing it. Mammootty is handsome as always.
An average flick which can make to hit charts but is partially clouded by Mammootty's next releases. This is a film you can go with your family. The film will be a treat for kids.
Thanseer M.A
3 / 5
Submit your reviews here
Daddy Cool Movie Home