Calendar Review
22 May 09, 04:08pm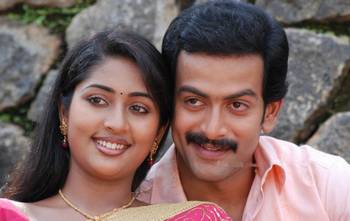 Cast:
Prithviraj, Mukesh, Navya Nair, Zarina Wahab, Jagathy Sreekumar, Manianpillai Raju, Kottayam nazeer
Director:
Mahesh
Producer:
Saji Nanthiattu
Lyrics:
Anil Panachooran
Cinematography:
Vipin Mohan
Story and Screenplay:
Babu Janardhanan
Calendar directed by Mahesh Padmanabhan is a family film which makes the viewers feels as if they are watching a serial in big screen with rich cast.
Prithviraj as Sojan has acted well, even though he has nothing much to do in this movie. His films are expected to attract youth audience, while the paradox is, this film has got nothing much to offer for them, which may lead to bad publicity as the youth audience suffers a let down.
Story is primarily about a dangerously possessive mother and her daughter.
Thankam George (Zarina Wahab), who is a widowed lecturer, lives for her only daughter Kochu Rani (Navya Nair). Thangam George is willing to do anything so that no one comes between her and the daughter.
In the acting front everyone does a neat job except some junior artists and a comedy actor. Mukesh looks young in his new makeup. Jagathy and Mallika Sukumaran provide lighter moments supported by Maniyan Pillai Raju and the actress who does the character of servant in Navya's house.
Interval is put in the wrong place and audience gets the impression as if the projectionist cut the film as he wanted to take a leak.
The climax portion is expected to attract female audience.
Babu Janardhanan the pet writer of Prithviraj pushes pen for this movie. Many questions remain unanswered when viewers get out of the theatre but a better question will be who takes energy to ask them and to whom.
The film looks old which is partly due to the camera. Don't know if director insisted that feel. Being a debutant, the director could have selected a better story.
Film seems to have made in low budget and expected to break even for the producer.
Verdict: Not good not bad.

Thanseer M.A
2.5 / 5
Calendar Movie Photo Gallery