Calender Preview
21 May 09, 03:04pm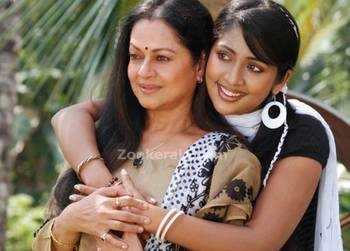 Cast: Prithviraj, Mukesh, Navya Nair, Zarina Wahab, Jagathy Sreekumar, Manianpillai Raju, Suraaj Venjaramoodu
Director: Mahesh
Producer: Saji Nanthiattu
Lyrics: Anil Panachooran
Cinematography: Vipin Mohan
Story and Screenplay: Babu Janardhanan

The upcoming Malayalam movie Calender tells the story of a bonding between a mother and her daughter. Planned as a hilarious comedy, Calendar will have Prithviraj in the lead as Sojashan Olikkara.

Thangam George, who is a widowed lecturer lives for her only daughter Kochu Rani. Navya Nair plays the role of Kochu Rani while Zarina Wahab will play the role of the mother. Zareena Wahab makes a comeback to Malayalam Cinema as Thankam George. Thangam George is very possessive about her daughter and does not like any one come between her and her daughter.

Two men comes into the lives of the mother and daughter, a young guy named Sojappan and the other is Dr. Roy Philip. Prithviraj becomes Sojappan and Mukesh is Roy Philip. Sojappan is a young youth whose family is settled in US. Dr. Roy Philip was earlier in US and had married a foreigner. But his mother persuaded him to give up that relationship and made him come back home. The story makes a turn when these two make entry into the lives of Thangam George and Kochu Rani.

Zarina Wahab's role was initially offered to yesteryear actress Sumalatha in the beginning. Initially she agreed to do the role, but later has opted out of the project due to her involvement in a political campaign by her husband, politician-turned-Kannada superstar Ambareesh for the forthcoming Lok Sabha elections. Director Mahesh approached actresses Mohini, Sita and Rohini for this role. None of them could make it because of prior committments.

Other cast members include Jagathy Sreekumar, Manianpillai Raju, Suraaj Venjaramoodu, Sudheesh, Mallika Sukumaran, and Usha. Babu Janardhanan pens the script for Calendar. Produced by Saji Nanthiyattyu in the banner of Nanthiyaatu films, the movie is cinematographed by Vipin Mohaan.

'Calendar' is all set to reach the theatres on May 21, 2009. Movie is expected to be good comedy entertainer.

Zonkerala.com wish the Calender team a very grand success.
Calender Movie Photo Gallery