Black Dahlia Review
15 May 09, 05:21pm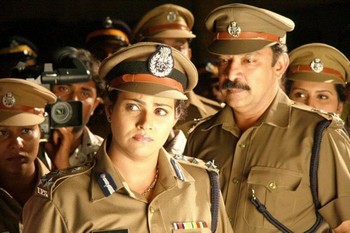 It looks like all our debutant directors are interested in thriller genre. Baburaj has directed this murder mystery like a seasoned filmmaker even though nothing special can be claimed about the movie.
The director was able to extract good acting performance including from the new comers. Pavithra who performs the character of a trouble maker has acted very well. The performance given by character Samantha who played the leader of the group is promising.
The film starts with loud music and is able to sustain the thrill for some time. Unlike many films which have a host of ladies, this film adds life to those characters. Vani Viswanath and Suresh Gopi look fine.
The title graphics are good. The editing suits well for the film.
The director has studied his subject well. The suspense in this flick is ok. But the climax portion could have been made better. There is a good car chasing scene in the movie. Special appearance by Remya Nambishan and Lekshmi Gopalaswamy in the song is good even though it was irrelevant for the film.
Elizabeth Short an American woman who was Nicknamed Black Dahlia was founded murdered in 1947 in California. The murder remains unsolved and has been the source of several books and film adaptations. In 2006 acclaimed director Brian De Palma based on the murder of Elizabeth Short made a film named The Black Dahlia. This may be the inspiration for the name of Baburaj's film.
Black Dahlia with the cost of a super star film was shot 10+ days more than the scheduled 35 and went 50%+ above budget.
Black Dahlia is an average thriller. This investigative thriller has resemblances with Hollywood horror flick 'I know what you did last summer'.
Thanseer M.A
3/5
Please submit your review here
Black Dahlia Stills