Bharya Onnu Makkal Moonnu Preview
13 Jul 09, 06:04pm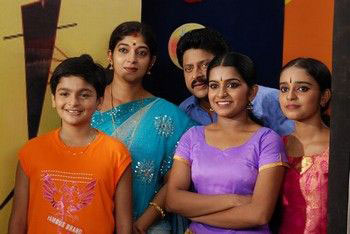 Cast: Rajasenan, Rehman, Sithara, Sindhu Menon, Kalpana
Direction: Rajasenan
Music: M. Jayachandran
Lyrics: Gireesh Puthenchery and John Alunkal

Malayalam film Bharya Onnu Makkal Moonnu with director Rajasenan making his debut as actor is a light hearted family entertainer narrating the life of Chandramohan Thampi, a postmaster.

Chandramohan Thampi played by Rajasenan has never been able to live up to the anticipations of his father, retired police officer, Sachidanandan Thampy played by Sivaji Guruvayur. His younger brother Raj Mohan Thampy by Rahman has made it big in business.

Problems climb up when he gets married to a Christian girl and moves out of his house. The story highlights his efforts to make both ends meet and the problems that he encounters in his life.

Along with Rajasenan, Sithara is making a comeback as Rajasenan's wife.

M. Jayachandran scores music while Rajasenan acts and directs the flick. Story is by Reji Photopark and script is by Kishore.

Alex produces the film under the banner Gini Cinema.
Bharya Onnu Makkal Munnu Photo Gallery