Bhagavan Review
15 May 09, 02:46pm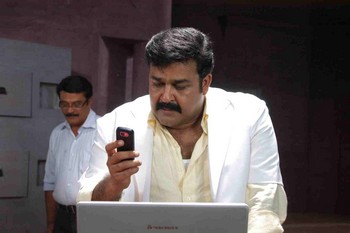 Bhagavan directed by Prasanth Mampully starring Mohanlal will go into history as the movie that was shot in the shortest span 19 hrs and also as one of the worst movies malayalam has ever seen. It is a pity that an actor like Mohanlal has acted in such a low standard movie. The director lacks any talent to be a director.The sad thing is that the movie has a good theme but the TV serial kind of narration has made it look pathetic.Even the charisma of Mohanlal will not save this one.
Bhagavan is about Dr Balagopal(Mohanlal) a gynecologist in a private hospital where the wife of the HomeMinister(Sivaji Guruvayoor) of the state is about to deliver a baby.Terrorists attempt to steal the baby and hold it for the release of some accomplice.And bombs are supposedly planted across the state.The movie is about how Dr Balagopal tackles the situation.The movie has a TV serial narrative of long scenes and emphasis on trivial matters.
The music is no different.Actors look very unnatural even Mohanlal at some scenes look very unnatural.Dialogues are as pathetic as the movie itself.When you watch this movie you feel that you could have made this movie better.
My rating
1/5
Jose Thomas
Recently Mohanlal haven't brought us many great films. So our reviews reflected it. But some considered us to be anti- Mohanlal while we were being impartial. Writing about this film will only strengthen their belief. For the love of this actor I keep my mouth shut and hands locked.
Thanseer M.A
Please submit your reviews here
Bhagavan Movie Home